This is a great opportunity for you to escape from the bustling city of Prague. It is very likely we will not meet a soul once we disappear in the Krivoklat woods. We will drive or take a train about 40km south west of Prague with our bikes. The route has flat parts as well as long climbs (some are very steep but short) and descents. Most of the route leads through Krivoklat deep forests on dirt tracks or small unfrequented roads. The speed will be adjusted to your fitness and energy level. Our destination will be Krivoklat Castle, a former royal hunting castle which still keeps its medieval character. There is an opportunity to stop for refreshments (late lunch) there, however it is recommended to bring a snack with you. For die-hard cyclists there is a possibility of an extension (10-15km).
It is possible to arrange an optional visit to a privately owned glass factory in Nizbor where you would see the glass blowers in action pulling glass mass straight from the furnace followed by a visit of the cutting department. If you wish there will be time to buy small glass souvenirs in the factory store before we continue our cycling expedition.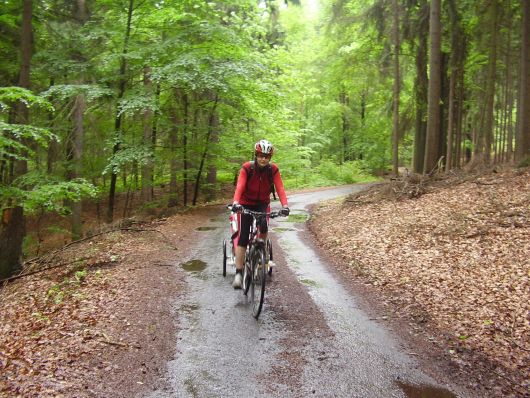 Distance of cycling: about 35km (+10-15km optional extension)
Rates: Please enquire about the price at the time of booking.